MR BROWN'S TWITTERINGS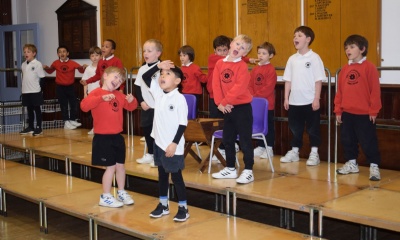 Week ending 30th November 2018
Rehearsals are in full swing now for all of our Nativity Plays (pictured) and the boys have been practising hard to get ready for their big moment in the spotlight.
The boys have had a wonderful opportunity this week to experience the PSHE Lifebus, where they have been learning about a variety of topics. This is a very valuable part of the curriculum, where boys can be introduced to some of the skills that are required outside of the classroom in the wider world. For instance, the Year 6 boys were learning about making decisions. Many of the boys are faced with quite challenging decisions as they become teenagers and it is important that they are equipped with the necessary skills to make the right ones.
On Wednesday evening, the first Governors' Meeting of the year was held. During this meeting, I was able to feed back to the Governors the results of the Parental Survey and I was pleased that many of the questions received over 90% positive responses, and I will continue to implement the necessary changes to make Willington into the best school it possibly can be.
I was lucky enough to visit two of our feeder schools this week, St John's Leatherhead and Hampton School. As one of the leading co-educational day and boarding schools, St John's has a really friendly feel to it and, as I was being shown around by two sixth form students, I was struck by how pleasant and confident they were. They were immensely proud of their school, which I thought was a great indicator of how much they have enjoyed their time there.
One of our former pupils showed me around Hampton on Monday before I met with the Headmaster, Mr Knibbs. The first thing that struck me about the school was the sheer size. At nearly fifteen hundred pupils, it is quite an operation getting all the boys in the right place! They do this, however, with ease and it is most impressive.
Looking ahead to next week, I know that POW have been hard at work getting ready for this year's Christmas Fair. It is a huge amount of work for them to undertake, but, I am sure the boys will all be very over-excited by Friday when it starts at 3.00pm. Have a great weekend, everybody.