MR BROWN'S TWITTERINGS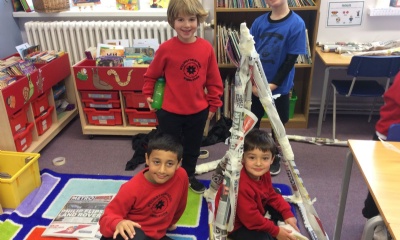 Week Ending 18th January 2019
It looks like we have been busier than Mrs May's Chief Whip this week, with the Junior Department having a whale of a time with a Maths activity morning (pictured). Prior to their Maths extravaganza, we were treated to a demonstration from M:Tech. Through music technology they aim to inspire, create and compose using a small keyboard hooked up to a laptop. The boys loved it when they were treated to a techno dance version of Smoke on the Water. Very shortly, we will be starting a Music Technology Club, where the boys can get their hands on the keyboards and laptops to create amazing compositions.
Earlier in the week, there was a great Assembly from one of the charities that we support, Tiny Tickers. They are a small charity with big ambitions and a proud track record of helping improve the detection, care and treatment of babies with serious heart conditions. This is an important part of what we do at Willington and it's great that we can support such charities.
The rugby season is now in full swing and it's great to see so many boys representing the school in fixtures. I did mention in Assembly on Monday that I am looking forward very much to the Six Nations in a few weeks time and I know it will act as inspiration for many of the boys who have a love for rugby. Many congratulations to Josh, who has been appointed Rugby Captain, and to Dinel and Sam, who have been made Prefects.
Yesterday, I was fortunate enough to visit the headquarters of IAPS in Leamington Spa. During the day, we were treated to a number of interesting presentations. The one that struck me the most was regarding education for social responsibility. The central thesis of the presentation was that we seem to value what we can measure, rather than measuring what we truly value. The question that was posed was, 'What do we truly value?' In educational terms, this was broken down into three areas: to be healthy, well-rounded and caring individuals; have safe, happy and fulfilling futures and to give back more than we take. As teachers, it is part of our remit to make pursuing wellbeing part of our pupils' way of life. This ties in nicely with a recent staff training evening on all aspects of wellbeing.
Earlier today, I emailed all current Willington parents to invite them to a private Open Morning we are holding so they can watch their sons in action during a typical morning. This is a great opportunity for them to catch up on all the recent developments within the school and witness first hand some of the amazing teaching and lessons their sons take part in.
Have a great weekend.