MR BROWN'S TWITTERINGS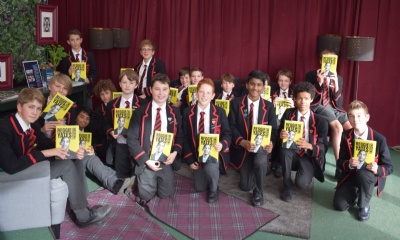 Week Ending 12th October 2018
If there was ever a dull moment in the life of Willington I've yet to come across it. Every single day there is so much going on that we barely have a moment to stop and reflect how lucky we are to be a part of the Willington community. This week, the boys have had the pleasure of attending the Wimbledon Bookfest (pictured) where their learning has been brought to life by a variety of authors. A big thank you must go to Mrs. Hamidon, who has organised our trips up to the Village to listen to these inspirational speakers.
Tuesday's Assembly was given over to the Year 4 boys who recently visited Sayers Croft. Each of the boys read out what they enjoyed the most. Funnily enough, their favourites included fire, water and bows and arrows! Boys are easily pleased! Mr. Currie then showed the blockbuster movie he had made of the week, which all the boys and parents loved. Thank you to all the staff who accompanied the boys on this trip.
Part of my job is to make contacts at the senior schools that our boys go onto when they leave Willington. This week, I have had the pleasure of visiting two of these schools. On Tuesday, I was at Christ's Hospital (https:// www.christs-hospital.org.uk) in Horsham and on Thursday I visited Kingswood House School near Epsom. When I arrived at Christ's, I was greeted by a marching band (not for me personally!), who parade every day as the pupils enter the dining room; it was quite impressive. The first thing you notice is the impressive uniform that the pupils wear. The distinctive uniform includes the outer blue coat, breeches (boys), pleated skirts (girls), white shirt with 'bands', yellow socks (for all boys and junior girls) and leather belts. It is not your usual uniform, but marks Christ's out as being unique. The ethos of the school is one of care and nurture in a boarding setting. The facilities are exceptional and the pupils were welcoming and keen to show off their school with pride. My next visit was to a smaller, but equally unique, school at Kingswood House (http:// www.kingswoodhouse.org/). It is situated near Epsom about 10 miles from Willington. Kingswood House offers boys an education up to the age of 16. Incidentally, their Headmaster is also a Governor at Willington, so he knows our school well. I was shown around by an ex-Willingtonian, Jazib, who was waxing lyrical about his time at Willington. One thing that he did say was that Kingswood House was very much like Willington, a smaller school with class sizes small enough that no boy goes under the radar.
Thursday evening saw our annual Future Schools' Event, with nine of our feeder senior schools in attendance. The Main Hall was a buzz of activity, with conversations about how to apply and what each different school has to offer our boys. There was a good spread of day, boarding and co-ed schools, each with their own distinctive feel. The schools that were at Willington were Charterhouse, Cranleigh, Dulwich (who brought ex-Willingtonian, Jamie, with them), Epsom, Fulham Prep, Hampton, KCS, Kingswood House and Reed's.
Last night, I had the pleasure of attending my first Willington School Choral Evensong. The evening was highly impressive and my congratulations to all the boys and to Mr Inglis-Kidger for their hard work to make this such a memorable event. Our Choristers had a quick turnaround from last night's Choral Evensong to, once again, performing to a rapt audience at today's Open Morning. The morning ran smoothly and the boys were amazing at showing our guests around their school. Our Years 7 and 8 boys were terrific ambassadors for the School and it was wonderful to receive such positive feedback from all our visitors.