THE NEW SCHOOL LIBRARY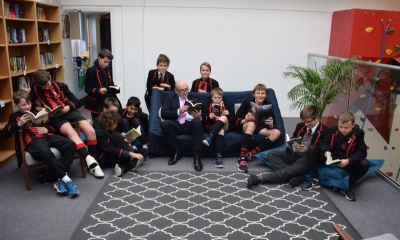 A welcoming space for all our boys
After a holiday filled with building works, the new school library has now emerged from amongst bubble-wrapped armchairs, box after box of book deliveries and enormous sheets of glass which now form our fourth wall!
Instrumental in bringing the space into fruition have been a number of Willington staff, together with our dedicated team of Year 7 and 8 librarians. For myself, finishing the library within the week has been a joy to realise. It has been a delight to see the choices the boys have encouraged shape a space that is welcoming for the Junior and Senior boys alike, and within moments of the furniture being positioned, Miss Fox and I have already taken advantage of this bright and welcoming space. Top of the list for the boys now seems to be sampling every beanbag they can find and hunting out over ninety new additions to the bookshelves.
We include a photo of our Headmaster Mr Brown, accompanied by our librarians and trainee librarians, who helped to design the space and select the new volumes for our shelves.
Mrs Sarah Hamidon​​​​​​
Head of English