MR BROWN'S TWITTERINGS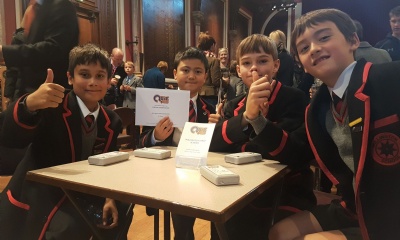 Week Ending 16th November 2018
Sorry to have to break the bad news to you, but Christmas is just around the corner. How do I know this? John Lewis have aired their Christmas advert with the hope that you will all rush out and buy a piano! It's hard to believe that we are only four weeks away from the end of term as there is still so much to do and only 19 and a half working days before we all set off on a well earned rest to fatten up for the winter months. Anyway, before that happens, and the silly season begins, we need to get down to some serious work and this week we have been showing off our brain power in a number of different areas. Mrs Joshi was over the moon when she came back from the National Science Inter-school Quiz Championship with entry into the semi-final round. We are very proud of our boys from Years 5 & 6. Out of 11 teams, we came third jointly with St. Paul's School. Only Hornsby House and Thomas's, Battersea came ahead of us. This was a brilliant result considering we were up against some of the top London day schools such as Thomas's, Clapham and the host school, Dulwich College. So, the reality is, WE are one of the top London day schools! Well done, to all the boys in Years 5 and 6 who took part in this event.
The week kicked off with our 'Odd Socks' Day on Monday, marking the start of Anti-Bullying Week. This is a national campaign that happens every year and it is really important that we address this topic on a whole school level. It was great to see that the boys and staff made an effort with their different socks; as you can imagine, it was quite a colourful Assembly. This year's focus was 'Choose Respect', and in the boys' PSHCEE lessons they learnt about why we should respect each other in a number of different ways. In my Year 6 lesson we talked about respecting others, respecting yourself and respecting the school.
It's been another big week of sport at Willington, which culminated in our Under 11 Team taking part in the semi-final of the Surrey Cup against Shrewsbury House. Whilst the result went against us, we are really proud of how the boys have played so well throughout this competition, representing the school with honour.
I had the pleasure this afternoon of being presented with a book, which had been created and published by the Year 2 boys. The book was called 'The Day 2M's Crayons Quit' and every page was written in a different colour in beautiful handwriting by a boy in Class 2M. It's always nice to be given these gifts by the boys, especially when they put so much effort into it, but it is equally as nice when the boys bring doughnuts to me because it's their birthday! Luckily, two boys in Year 7 had their birthday this week resulting in me putting on another half lb in weight!
As I write this, I can hear the boys getting ready for the POW Film Night. The excitement seems to be growing as they prepare to sit down and watch the film 'Diary of a Wimpy Kid - The Long Haul', having had a lovely slice of pizza and a drink first. Thank you again to the POW ladies for putting on this event for the boys; I know they really appreciate it.