MR BROWN'S TWITTERINGS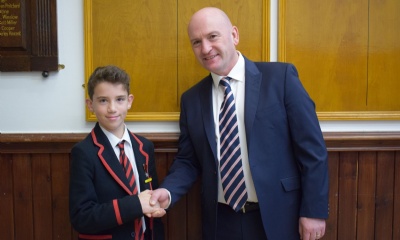 Week Ending 11th January 2019
Happy New Year everybody and I hope by now you have all recovered from three weeks' holiday! More about that later. At this time of year, our thoughts inevitably turn to our Senior boys, who will be sitting their pre-test exams in the coming weeks. No doubt they have spent most of the Christmas holidays buried in their books and working hard. I have every faith that this hard work will pay off and they will do exceptionally well. The Year 8 boys also have exams; the Common Entrance Trials begin on Monday.
I am sure the boys will have noticed, when they returned to school, that, over the Christmas break, work has started on our programme of classroom refurbishment. First on our list was the Geography Room which was completely refurbished with new carpet, painted and the whiteboard moved to make this a far more desirable working space.
This term, we move to Rugby on the sports field and next week sees the beginning of our fixtures, which I know the boys are very much looking forward to. As Head of Rugby, Mr Strudwick has high hopes for the boys and he was explaining to me the strengths of the 1st Team.
Looking further into the calendar, there are also some exciting events to look forward to. Year 2 will be visiting the National Portrait Gallery and there are Drama Workshops for Reception and Year 1. The Digital Leaders will be making their first ever trip to the BETT Exhibition, which is the UK's largest technology in education exhibition, held at the Excel Arena. Hopefully, they will come back with loads of great ideas that we can try and implement at Willington in the coming years.
On the Music front, we have another Choral Evensong this half term, along with further events in the Musical Performances Series, which I am sure will live up to the standards of last term. After Half Term, we have our Jazz, Art and Literature Evening, which is a welcome addition to the calendar. One new event that will debut this term is the Inaugural Willington Adventure Lecture. To kick off this annual event, we have secured one of the world's most eminent female explorers and writers, Lois Pryce.
It was great to see POW in school this morning for their first Coffee Morning of the term and Second Hand Sale and I look forward to working with them throughout the rest of this term. Already, since the start of the academic year, they have been able to fund a full class set of Chromebooks, which we hope to roll out this term. This will enable us to introduce more technology into the classroom to assist in the teaching and learning of the boys.
Many congratulations to Caeden, who has been appointed Head Boy for the Spring Term (pictured). Mum and Dad were really proud to see him being presented with his badge in front of the whole school in Assembly on Tuesday. Good luck to you, Caeden.
As many of our parents are keen athletes and, at this time of year, making New Year's resolutions, I have been discussing with Mr Gibbs how we can assist in keeping everyone motivated. With this in mind, we have now launched our own Parents of Willington (POW) Strava Club and we're looking forward to a little friendly competition. So we're off, new term, full steam ahead!