FUTSAL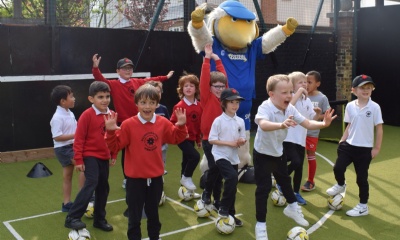 New Extra-Curricular Club
We are delighted with this new addition to our clubs programme, held on a Tuesday afternoon, for boys in Years 1 and 2. The great game futsal, develops children's technical ability on the ball, decision making and provides players with touches on the ball.
"Futsal in schools needs to happen," says Michael Skubala, the FA's futsal elite performance manager and head coach of the England team. "Until we start doing Futsal properly, we will never benefit from the development that is possible from the game for both coaches and players. Brazil and Spain are all doing Futsal on a massive scale. The young children in these countries start playing the game in the Foundation Phase and the constraints of the game are showing us that it gives us huge football returns later down the line."
The first session for the boys included meeting Coach Andy from AFC Wimbledon and showcasing their individual skills in lots of fun and exciting games. The boys then had a special visitor, AFC Wimbledon's mascot - Haydon the Womble!! Haydon was quite shy at first, but the boys made him feel extremely welcome and took the opportunity to have a photo with him. The boys left the session with big smiles on their face, looking forward to next week's activities.
Jamie Sadler, Teacher of Sport
Also joining our Extra-Curricular clubs this term is Golf for boys in Years 4 to 8 at Wimbledon Park Golf Club. For a full list of our programme visit www.willingtonschool.co.uk.clubs.