2nd Willington Adventure Lecture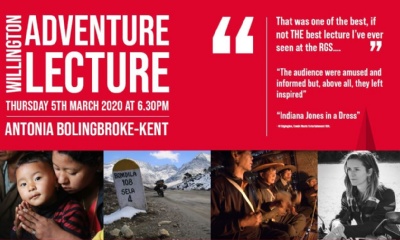 Thursday 5th March at 6.30pm
Our guest speaker at this year's Willington Adventure Lecture is travel writer and ladyventurer, Antonia Bolingbroke-Kent, winner of the @RoyalGeographicalSociety 2019 Neville Shulman Challenge Award.
Antonia has published three books, set the Guinness World Record for the longest ever journey by auto-rickshaw and won Cosmopolitan magazine's Fun Fearless Female Award. Her latest book 'Land of the Dawn-Lit Mountains: a journey across Arunachal Pradesh – India's forgotten frontier' was runner-up in the 2018 Edward Stanford Travel Writing Awards, with judge Phoebe Smith calling it 'exquisitely written, with a strong sense of place and proper travel writing in the classic style.'
Find out more by visiting itinerant.co.uk and by joining us for, what will certainly be, an entertaining evening. Email events@willingtonschool.co.uk for booking details and ticket availability.