CHORAL AND ORCHESTRAL SPRING CONCERT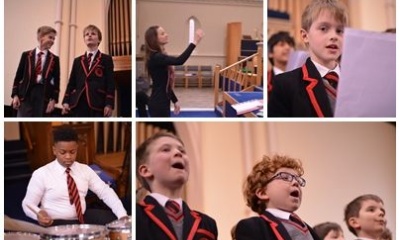 Held at Trinity United Reformed Church on Wednesday 23 March 2016
With close to 90 boys taking part, these concerts are always a highlight of the term and they showcase the talents and hard work of the boys. Performing ensembles included: Sparrows Choir, Recorder Club, Hawk Choir, Jazz Ensemble, Willington Voices, The Choristers and Orchestra.
The wide range of music included "Ease on down the road" - C. Smalls arr J. Funk, "Nice work if you can get it" - G. Gershwin arr. M Brymer, "Risen Lord" - B Rose, "Theme from Piano Concerto No.21" - W A Mozart, "Star Wars Theme" - J Williams arr B Turner. An incredible finale of "Sansa Kroma" - Traditional arr C Miller was performed by everyone taking part.
For more details of music at Willington click here.