New Year Newsletter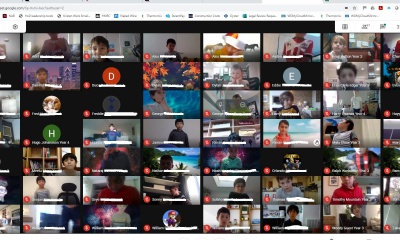 Where do I start? It's a crazy world out there. What an extraordinary time we are living through, and it is not just the pandemic that is making the news currently. No doubt we all have many opinions on how this whole crisis has been managed, but it is the situation that schools find themselves in that is most concerning. I'm sure most of you had a very quiet Christmas and New Year which felt extremely unusual, at least it did in my house. However, in many respects, having younger children probably made Christmas slightly more magical. It can become quite tiresome the continual iterations of the 'Keep Calm and Carry On' slogan that is often circulated whatever the current theme is. But at this present moment, I think it is quite an apt sentiment for us to remember, given there is not much we can do until the rollout of the vaccine helps bring the virus under control. So, let's start by just all staying calm and getting on with the business of education.
As we move into another period of home learning, I am hoping that many of the lessons we learned from the last lockdown will stand us in good stead over the coming weeks. Although we have tried to create a timetable which reflects what we do at school, it will never quite replicate it exactly. However, we do know that it goes beyond the basic government guidance on the amount of hours each child should receive, and it also offers more breadth. Getting a good balance of online and offline activities is the key, and hopefully built into the day are times when the children can move away from a computer to complete work. We will continue to monitor the timetable and the overall provision in the coming weeks and, where we see fit, we will reshape and tweak as necessary.
As a great supporter of technology in education, I also understand that it sometimes lets us down. I found this out in the very first assembly of term, only realising after it was too late that Google have put a limit of 100 on their Google Meet platform. This one change left me feeling rather deflated, just when 'big tech' should be trying to bring communities together, this felt like they were tearing a community apart. I know that sounds rather dramatic, but when you have a small community like ours, it is so good to get them all together, even if it is only virtually. Please Google, do the right thing for schools. Speaking of Google, we use Google classroom in the Prep department of the school and as one parent quite rightly pointed out, it would be wise to download the Google classroom app to your phone in order to very quickly take pictures of work and upload them to the appropriate class, if needs be.
One aspect of this lockdown which will have a greater impact, is the time of year. It is vitally important that the children get outside for some exercise, however, we are not in the same situation with the temperatures going below zero in recent days. That said, there is no such thing as bad weather, only the wrong clothes. I'm sure we can all find a woolly hat and a pair of gloves to keep us warm.
It has become quite a mantra in education to teach children to be resilient and we know it is in times like this when resilience is most important. Dr Weston has created a number of resources that should be of interest to you over the coming weeks and I have signposted them further down the newsletter. You will need to login to your tooled-up education account to access them but they are well worth a read. Any small practical tips that will help you, in my humble opinion, are invaluable. My own top tips to you over the coming half term are quite simple.
Don't try to be a teacher, be a parent first.
If work isn't completed, don't worry, it is not worth having a battle.
Remember, every child in the land is in the same predicament, many are finding it difficult, so you are not alone and not falling behind anybody.
Finally, the big picture, they have another (probably) 80 years ahead of them, this is just part of life's great tapestry.
And on that happy note I bid you a peaceful weekend, enjoy. Keith Brown, Headmaster