RESTLESS TRIATHLON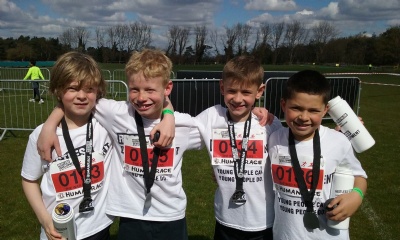 60 Boys from Years 3 to 8 and one amazing day of Sportsmanship, Challenge, Fun and Charity
Willington were delighted to have 15 teams of friends attending the first of the Restless Triathlons at the Royal Russell School in Croydon. All the boys thoroughly enjoyed the training, picking their very amusing team names and raising funds for Restless Development - an international development charity that puts young people at the very heart of dealing with the issues that affect them, their communities and their countries.
There were over 400 children taking part, the majority in their first triathlon, and it was a fantastic day. Click here to go to our photo gallery from the day.
We will be updating this page soon with details of the money raised for the charity.
This unique opportunity was brought to us by one of our parent body, Jim Sewell of Restless Development. We send a heartfelt thank you to him for introducing our boys to the joys of Triathlon, for all the training and advice given and our good wishes for the continued success of the future Restless Triathlons being held across the country this year.
The Triathlon
Swim - Bike - Run
Boys entered in teams of four and completed each discipline as a relay; all four team members swam before moving to the bike section together. After completing the bike, they proceeded to the run start area to begin the next stage. Distances varied according to age group. There were medals and goody bottles for all children participating.