Black History Month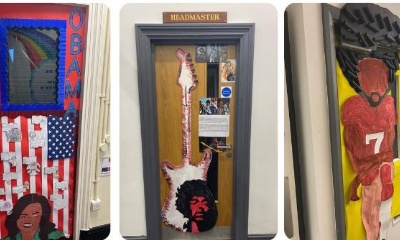 Read on to discover how black culture is embedded in our curriculum all year round
So Black History Month has come to a close. This year we went to town on it and dressed up all the classroom doors in celebration of some of the greatest people to have blessed a wide variety of fields - from sport to music to civil rights and beyond. . The Williams sisters, Hendrix, Kaepernick, Angelou, Marley, Basquiat, Owens, Mandela, Coelho, Franklin, Obama (Michelle by the way) and not to forget Parks. More importantly though, in recent years we have unpicked our curriculum to make sure the study of different races is not something that we celebrate only in October, it is all year round.
In English, we have expanded our reading of black characters such as Gregory in Caroline Binch's book 'Gregory Cool' or the poetry of Joseph Coelho 'Overheard in a Tower block', to authors such as Sharna Jackson and this year we are introducing Benjamin Zephaniah's 'Windrush Child' to complement our new 1960's Britain and Civil Rights in the USA summer topic. The diversity in our History curriculum is evident throughout the years as they study a range of world civilisations; Egyptians (Year 3), Aztec (Year 4), British Empire: Africa, India and Australia (Year 5) as well as Native American history (also Year 5), the Ancient Shang dynasty, the Ancient kingdom of Benin, early Islamic Baghdad and 1960s Civil Rights in the USA and UK (in Year 6).
In our multicultural school everyone feels included, where indigenous art and music add a further layer of richness to a curriculum that treats black culture as something that is with us every month of the year, without even mentioning it. If you are doing something different that we could add to our curriculum, please let me know, I'd love to hear how you approach it.
However, we did love Black History Month and I have to admit I did indulge myself with an assembly on all the black artists that I love. Every child needs a bit of Hendrix in their life don't you think?!
Keith Brown
Headmaster
This article was first published in LinkedIn on 2nd November. Follow us @WilingtonPrep