NEW! Morning MiniBus Service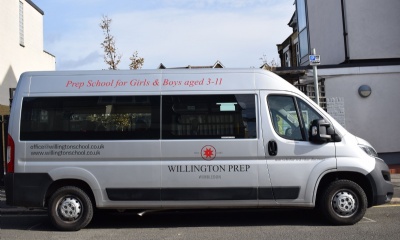 From Raynes Park to Willington
We are delighted to announce the launch of our new morning minibus service, providing a safe and convenient transport option for our pupils. This service is a direct response to the evolving needs of our school community and underscores our commitment to enhancing our pupils' daily experience.
Launched in the Autumn term of 2023, the minibus service will offer pickups from Raynes Park, ensuring timely and cheerful arrivals at Willington by 8:00 am. Tailored for families seeking reliability and ease in their morning routine, the service is priced at £150 per term and is initially open to pupils in Years 1 to 6, subject to terms and conditions.
The service's expansion plans are already in place, with the anticipation of increasing demand and the potential for additional stops to be included.
Keith Brown, Headmaster said, "We are excited to launch our new minibus service, offering a seamless start to the day for our pupils. This service is a clear indication of our dynamic approach in meeting our families' needs. It allows our children to arrive refreshed and ready to embark on a day filled with the joys and adventures of childhood education."
For more information please contact Lucy Walton via admissions@willingtonschool.co.uk.