POW CHRISTMAS FAIR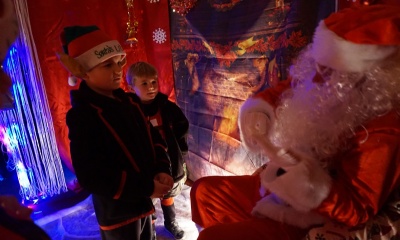 A Festive Afternoon for Boys and Parents
A huge thank you to our fabulous POW team for a wonderful Christmas Fair, held on Friday 2nd December.
With their team of volunteers and with a little help from Father Christmas, the boys enjoyed a magical afternoon including Santa's Grotto, the soft toy tombola, many indoor and outdoor games, chocolate tombola, the School Council toy stall and a Cafe serving hotdogs. Our snow machine was a delight to our youngest visitors who played merrily as the parents headed to the apres ski bar, created by our Dads. Everyone was treated to Christmas Carols in the hall accompanied by our Director of Music, Ian Parker, on a magnificent Steinway piano (more Steinway news to follow...). Our parents and sponsors gave so generously to our Raffle and it has been wonderful seeing the many winners come to pick up their prizes, including a very excited Year 1 boy clutching the winning ticket for the hoverboard.
We will be updating the POW page soon with our thanks to sponsors and details of the funds raised, but in the meantime, we wish everyone a very Merry Christmas and a Happy New Year.