WILLINGTON/TOWER HOUSE TOURNAMENT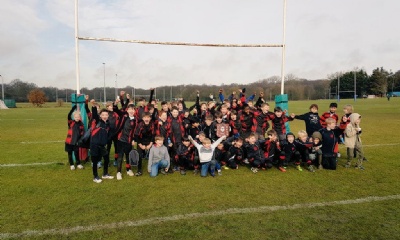 I'm delighted to report that our Willington boys had a barnstorming morning last Saturday, winning the Willington/Tower House shield for the first time in its four year history. Now that our name is on the trophy, we won't be loosening our grip on it anytime soon!
What became really clear this year was the improvement and togetherness from each team, many of whom turned around losses from last year's tournament. Willington is a rugby school and it really showed that morning with our U9A, U10A & U10Bs and U11A recording great wins. With the U9B and U11Bs drawing their respective games, we were then out of sight of Tower House who ended up with a clean sweep of the U13 ages group with both our 1st and 2nd string sides losing tough games.
Tower House have, in recent years, been a school by which we've measured our sport, and it's great to know that we've closed the gap on our favourite rivals and actually moved on past them. Not only have we won back the trophy in the rugby, but we also beat them through the age groups in football too.
Looking towards next year's event, I'm confident that we will be able to mount a seriously strong defence of our trophy and, to be honest, I'm already excited about it. Well done to all of the boys involved, we were ravished with illness in the lead up and everyone who stood up and played did their school proud.
William Carew-Gibbs
Director of Sport