NEW MICROSCOPE FOR SCIENCE DEPARTMENT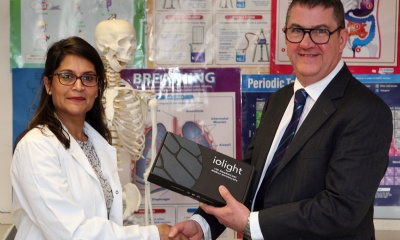 Our thanks to iolight for their incredible donation to our Science Lab
We were delighted to receive the iolight Portable Microscope, generously donated by its founder, Mr Andrew Monk (pictured). Mr Monk visited Willington School to meet with the Headmaster, Michael Chanter, and to run a training session on this state-of-the-art technology with the School's Head of Science, Mrs Alpa Joshi.
This small, easy to use microscope will enable slides to be viewed as high resolution images projected onto a large screen within the School's Science Lab. Mrs Joshi said, "This wonderful piece of technology will bring a new dimension to our lessons. The microscope is a great addition to our Science facilities and I know that our boys are really looking forward to using it." Mrs Joshi added, "I can see how my colleagues working in other areas of the school, such as Geography, may take the iolight into the field for some unique cross-curricular work."
The iolight portable microscope works across a whole range of devices from smartphones and tablets to laptops and screens using wireless technology. The lightweight microscope measures just 160mm x 101mm x 32mm when folded away in its portable case.
Visit iolight.co.uk for further information.