MATCH REPORT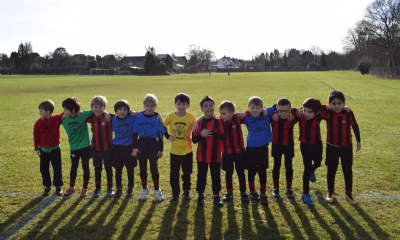 Each week we seem to be producing the goods on the pitch which is great to see. On Monday we had our first Hockey fixtures of the term against an impressive Prospect House outfit. They play Hockey as their main sport and it was clear to see as they brushed all of our teams aside. We'll be better for the experience though and we're now looking to have a return fixture towards the end of term to gauge our improvement.
On Tuesday our Year 2 boys (pictured) had the first of what will be an annual Cross Country meet against Wimbledon Common Prep and I was delighted with their efforts. We haven't done a lot of Cross Country since last term so I was incredibly impressed how well our boys basically 'sprinted' a 600m, largely uphill circuit, not once but twice. Not my idea of fun but they did so well and we managed to get eight boys on the podium which was a great effort.
In the afternoon our U10s took the field against Homefield and the U9s played the Mall. The U10s produced another set of fine performances as did the U9BCD's, with the U9A's coming unstuck against a very athletic and well organised team. Lots of lessons learnt however and we'll come back stronger after half term.
On Wednesday we twice travelled to Homefield, with our mighty Year 3 boys putting on another clinic in the wet, producing a clean sweep of wins from the A's to the E's. In the afternoon all of our Colts boys had a run out in a triangular fixture against Homefield and Lanesborough. On the whole we played some really good rugby and as a group, they're building nicely!!
Inter House Rugby is on next week at Drax and all parents are welcome.
William Carew-Gibbs
Director of Sport