CROSS COUNTRY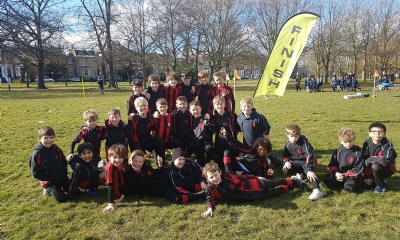 Finton House Cross Country Event
On Thursday 8th March Mr Gibbs and Mr Peacock took 24 boys to Wandsworth Common to compete in the annual Finton House Cross Country event.
The squad consisted boys from Year 3 to Year 6 all running different distances. The Willington boys were first to arrive at the Common, full of energy and ready to impress. A walk round the course ensured all boys were happy with the route and this was quickly followed by a warm up lap and before we knew it the first race was upon us.
Up first, Year 3. Six giants, Raphael, Oliver, Harry, Ollie, Joshua and Kenneth took to the start line before completing two laps (800m) of the course. After a hectic start and a very competitive first lap, Willington were holding 3rd place going into the second and final lap, it looked promising! However, with around 200m to go it looked like Willington wouldn't finish in the top 3 before young Harry made a late surge for a podium finish with a very intelligent move from 6th place to finish in 2nd place. Our first podium finish of the day, was this to be the first of many?
Next up and full of nerves, Year 4. Six stalwarts, Matthew, Robbie, Jimmy, Kiran, Lucien and Thomas took their place on the start line after a few final words from Mr Peacock. With the boys desperate for another top 3 finish, they set off in pursuit of some more silverware. Another very tight race with some great talent and ability on show saw Matthew up near the front but looking tired going into the second lap. Coming round the final bend however it looked like Matthew had dropped back and that another top 3 finish would have to wait until the Year 5 race, but with another impressive and impeccably timed break, Matthew made his determined surge for a top 3 finish crossing the line in 2nd place, just! Another silver medal.
After what felt like an eternity it was the turn of Year 5 who couldn't wait to get going. Returning champion and crowd favourite Freddie and the team consisting of Lucas, Luca, Johnny, Austin and Will were all ready to make their presence felt on what had been a great day at the office for the Willington boys. With the distance for the older boys now increased to 1600m the boys now had to complete three laps of the course and indeed pace themselves that little bit more. More intelligent running was required and that is exactly how the Year 5 team ran, all of the boys worked hard and paced themselves in a race that was littered with talented runners.
After lap number one it was Freddie that was leading the surge for Willington, sitting in 2nd place with two boys from Hornsby House that occupied both 1st and 3rd place going into the second lap. After a very tight second lap it seemed that Freddie had taken control of the race and now sat in 1st place entering the 3rd lap. Could he hold on? Had he gone too early? With anxious boys, parents and teachers watching on it was Freddie that remained in control of the race for the 3rd and final lap crossing the finish line in 1st place and bringing home the gold medal for Willington. A mere 10 meters behind him Luca and Lucas finished in 4th and 5th place respectively with Austin, Johnny and Will just behind them. Another very intelligent run with all boys showing great heart and determination.
Last but not least, the turn of the Year 6 boys, many who played their part in the Aberdour 7's tournament earlier in the week. Jack, Leo, Sam, Harry, Daniel and Toby, arguably had the hardest job, ensuring that their nerves didn't get the better of them before the last race of the day. With three laps ahead of them the boys set off in pursuit of the last podium finish of the day. With a promising and impressive first lap another medal looked hopeful with Leo aka 'the bullet' holding his own at the front of the pack, however, unfortunately he just missed out on a top 3 finish, finishing in a respectable 4th place.
Willington have now firmly put themselves on the Cross Country map for future events with some very gutsy, determined and impressive running by all of the boys. Watch out Mo Farah!
Ross Campbell Peacock
Teacher of Sport