MR BROWN'S TWITTERINGS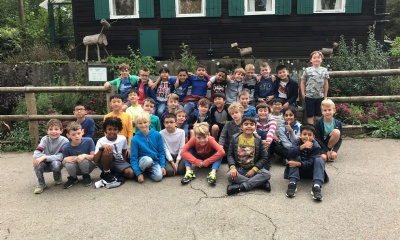 Week ending 14th September 2018
Welcome to the first Newsletter of the year and what a start it has been! It would be very hard to tell that, only a matter of days before the start of term, the school was a building site, with dust everywhere and builders and cleaners working hard over the weekend to make sure the school was ready for the start of the new academic year. It was never in doubt, so the Bursar kept telling me, which of course filled me with optimism that "it would be alright on the night", so to speak. I know Mr Cassar is very happy with his lovely, bright new Art Room and the Library is taking shape, hopefully to be finished during the October Half Term.
Taking a delivery of five brand new Smart Boards at the start of term is testament to the generosity of our parents and the POW Team. They will really have a big impact on the boys' education and allow the teachers to introduce new fun and interactive activities to lessons. POW have been hard at work already this term with their Coffee Morning and Second Hand Uniform Sale. Thank you to the POW Team for getting to work so quickly and they have already told me they have big plans for the year ahead!
I had the pleasure of watching the Under 11 Football Team playing at Hampton School last weekend and I was extremely impressed by the standard of play. Struggling to find them when I arrived, I eventually spotted the blond hair of Will and the red and black of the Blackburn Rovers away strip (did Mr T choose these colours, by any chance?). Mr Currie had the boys well drilled and there were a couple of memorable goals, which had the parents cheering. Mr Currie had further success during the week when he took the boys to the IFSA round 1 match and came away with a 2-1 win, having been 1-0 down. As he explained to me when they returned, "We got in front and then parked the bus; it wasn't pretty". As long as Mr. Currie isn't expecting to be paid like José, then a win's a win in my book and roll on round 2!
Another development on the sporting front is our new online sports website, sport.willingtonschool.co.uk, which can be accessed from the Willington website. This development will make the running of all the match day administration far more efficient and you will be able to view team sheets online.
It was great to meet so many of our parents at the informative Curriculum Evening we held this week for the Junior Department. There was a real community feel in the Main Hall after the meetings and it was a good chance to chat about the school in an informal way over a glass of wine.
Year 4, meanwhile, have only been back at school for a week and they have already been away on another holiday! The boys started their annual trip to Sayers Croft on Wednesday (pictured) and it has been great to see regular updates on the school Twitter feed. Meeting them on their return, it was clear to see they had all had a wonderful time and the caving seemed to be the activity they had enjoyed the most. Thank you very much to Mr. Currie, Mrs. Stefanovski, Mrs. Stephenson and Mademoiselle Veloso.
Early next week, I will be emailing all our current parents inviting them to fill in a short survey giving them the opportunity to give me some feedback about their experience of Willington. I am very keen for the school to keep on improving and working closely with our parents is vital to our success going forward. In addition to this, we will be launching our new Parent Portal very soon and hope that this development will make communication between home and school far more efficient and give us the added benefit of a password protected area for our parents.
We continue to receive news of Old Boys and most recently from two boys who left us three years ago and whose parents expressed their appreciation for the solid foundation that working towards Common Entrance gave them. Luca, now a pupil at Epsom College, passed all of his GCSEs with flying colours, which included a spectacular 8 A*s/9s among his achievements. He was particularly proud (as are we) of his A* in Maths and his 9 (the new 'super grade') in Latin. Chad, who was a spectacular Artful Dodger in our production of Oliver, passed all of his 9 GCSEs and is now studying English Literature, History and Classical Civilisation. Well done to both those boys. This week, I also had the pleasure of meeting one of our Old Boys, who dropped in on his way home. Sam, who won a Drama Exhibition to King's this year, informed me that King's is good, but not as good as Willington! I think we already knew that Sam. Have a great week.