MR BROWN'S TWITTERINGS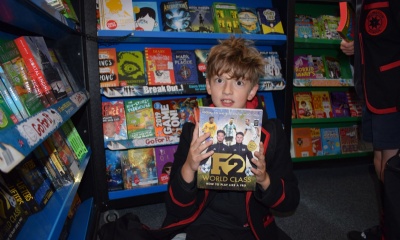 Week Ending 28th September 2018
It has been another fun packed week at Willington, with plenty going on to keep everyone busy. There has been an enormous amount of sport and I was lucky to get up to Drax on Monday to watch the 1st XI playing against Homefield. A thrilling 2-1 win was good to see, with Cameron scoring the winner with seconds to go. The middle of the week saw the Travelling Book Fair arrive at Willington (pictured) and the boys have been taking advantage of it to stock up their bookshelves with some great fiction. If there is one thing we need to engender in our children, it is the love of reading. American writer, Sara Nelson, tells it like this, "Reading's ability to beam you up to a different world is a good part of the reason why people like me do it in the first place, because dollar for dollar, hour per hour, it is the most expedient way to get from our proscribed little "here" to an imagined, intriguing there. Part time machine, part Concorde, part ejector seat, books are our salvation."
The good thing about school is that after you have done all the reading about these far-off places or ancient civilizations, you then get to go on amazing trips that further bring to life these times and places. Year 3 were able to do just that on Friday when they visited the British Museum to study the Ancient Greeks. We are lucky to have such fantastic museums in London and the boys had a great time seeing the artefacts from that period.
This week, I had the pleasure of visiting two of our Senior feeder schools. On Wednesday morning, I was invited to the opening of KCS, Wimbledon's new Music School and Concert Hall by HRH the Duchess of Gloucester. The most impressive part of the morning was the standard of musicianship on display by the students of KCS. The pianists and choirs were of a standard I have never had the privilege of listening to before. In the evening, I was with the Headmaster of Trinity School in Croydon, Alistair Kennedy. This is a school with a proud academic and sporting history. Later in the week, current Trinity student and Willingtonian, Christian, paid us a visit. Christian is in Year 11 at Trinity and studying for his GCSEs. What a fine young man he is and a credit to his school; also a very good prop forward, I hear.
The Year 4 Curriculum Evening was a good chance for parents to put names to faces and it was a pleasure to meet so many of you on Thursday. Miss Henson gave us all an introduction to life in Year 4 and explained how to avoid the dreaded red and blue marks! It was nice to hear that the parents were impressed by how friendly the staff were.
Our Parents' Portal launched this week and our parents have been browsing this area for sharing information. It will grow over time and have all the important information needed to organise and monitor their son's career at Willington including all reports.
We rounded off the week with the POW Bake and Book Sale. A big thank you to all the parents who volunteered their services to the cause and it looked like a real hit with the boys. Not sure which was more popular, the books or the lovely sugary cakes?!
Looking ahead in the diary, we will be welcoming ten schools to our annual Future Schools' Evening on Tuesday 9th October which will be a wonderful opportunity for parents to consider the next step in their son's academic career. And, finally, my utmost respect goes to Josh in Class 3L, who challenged me to the 100 square multiplication race. Feeling confident and in control, I cruised into what I thought was an unassailable lead and, finishing comfortably ahead of time, I sat back and waited for the results. Surely 100 out of 100 and it was going to be a breeze....sadly, I was more like the hare than the tortoise and Josh's slow and steady tactics resulted in a 99 to 98 victory for the youngster. I think a rematch is out of the question, but I will consult with Miss Lawrence, our promoter, to see if a suitable venue can be found. Humbled, I will bow out on that note.